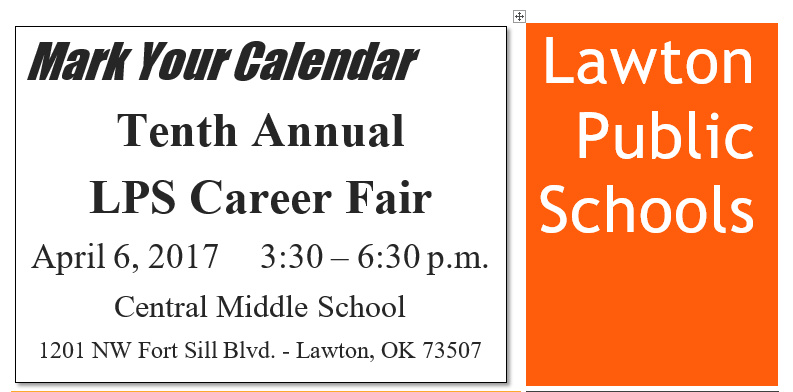 We are presently seeking:
Certified:
-Prospective teachers (soon-to-be graduates of teachers' colleges, other college graduates interested in joining the profession)
-Speech-Language Pathologists
Support:
-Speech-Language Pathologist
-Bus Drivers / Bus Monitors
-Personal Care Assistants
Interviews for open positions will be offered to qualified applicants registered through our on-line applicant portal: www.lawtonps.org.
Positions will post beginning March 10, 2017 for the 2017-2018 school year.
Lawton Public Schools –
-Nationally recognized by District Administration magazine for our dedication to K-12 STEM education.
-Oklahoma's 9th largest district
-Among the state's top-performing districts, offering first-class learning environments, and competitive salaries and benefits.
-LPS Average Teacher Experience:
13.6 years* (Oklahoma – 11.2 years)
*2014 OSDE data
Hope to see you there!
Mission Statement:
The mission of LAWTON PUBLIC SCHOOLS is to ensure the HIGHEST QUALITY INSTRUCTION in order to create the MOST SUCCESSFUL STUDENTS.
Four Guiding Principals
1.Prepare Career Bound Citizens
2.Shared Professional Ideals
3.Communication, Collaboration and Transparency
4.Healthy & Fit Lifestyles
For more information contact:
(580) 357-6900