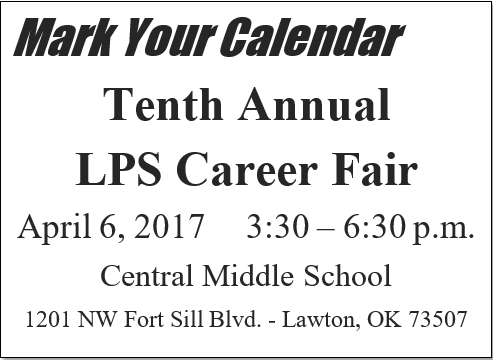 It's time for YOU to join the Best in Southwest! Make sure you swing by our Career Fair in April to make it happen! We are presently seeking:
Certified:
* Experienced teachers
* Prospective teachers (soon-to-be graduates of teachers' colleges, other college graduates interested in joining the profession)
* Administrators
* Speech-Language Pathologists
* Psychometrist
* Physical Therapists
* School Counselors
* Coaches
Support:
* Deaf Ed Interpreters
* Maintenance Workers
* Speech-Language Pathologist
* Bus Drivers / Bus Monitors
* Teacher Assistants
* Child Nutrition Workers
* Secretaries
* Personal Care Assistants
For more information, contact the LPS Human Resources office at (580)357-6900. See you there!