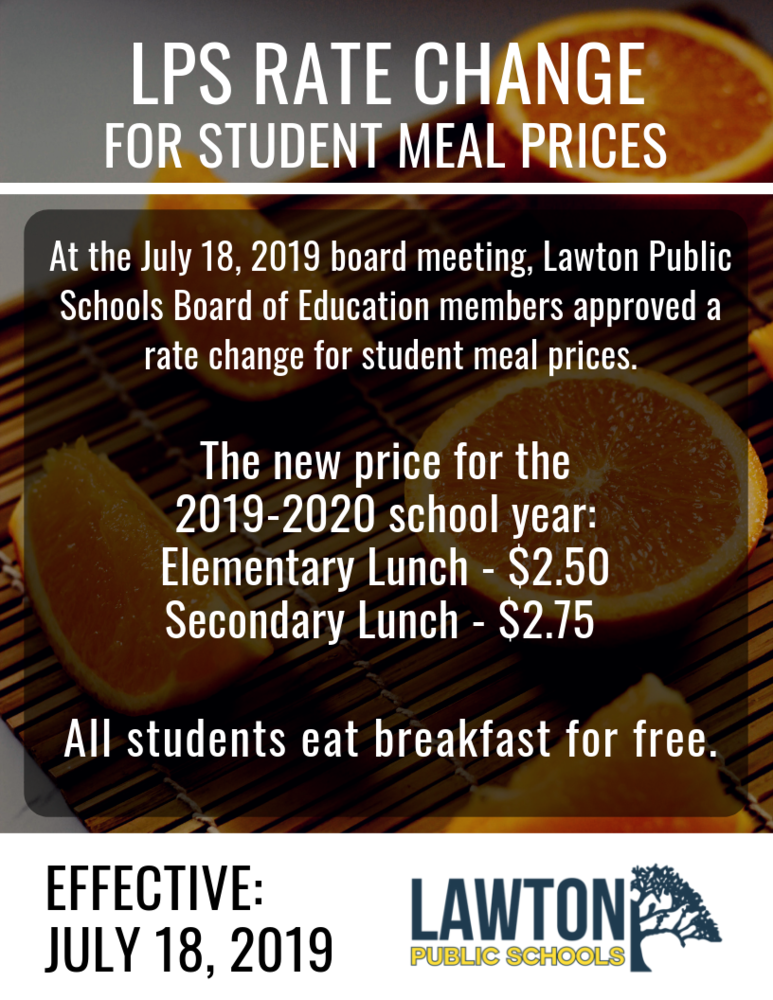 2019-2020 New Lunch Prices
LPS Child Nutrition
Tuesday, July 23, 2019
Lawton Public Schools Board of Education members approved the 2019-2020 school lunch prices at the July 18, 2019 meeting.
The new price reflects a $.15 increase from the past two years.
"We are still below the National average and lower than surrounding districts," said Steve Dyer, Director of Child Nutrition. "We try to hold the prices as low as possible."
The Healthy, Hunger-Free Kids Act of 2010 (HHFKA) requires school districts participating in the National School Lunch Program (NSLP) to ensure sufficient funds are provided to the nonprofit school food service account for lunches served to the students not eligible for free or reduced price meals.

The increase does not relate to subsidizing of Free/Reduced meals.
The new price for the 2019-2020 school year: Elementary - $2.50 Secondary - $2.75
Breakfast will still be FREE to all students.

Some students will receive free lunches or reduced price lunches that are dependent on income eligibility. Applications are now being accepted for the new school year. Click this link for more information: Free and Reduced Lunch Application.
LPS encourages every household to apply for free or reduced-price school meals. The fastest possible service on getting applications approved is when parents/guardians of students complete the application online in their Infinite Campus Parent Portal account. Any parent/guardian needing a key code to access their account can obtain it from the school secretary or parents/guardians may contact 580-355-1150 option 1.