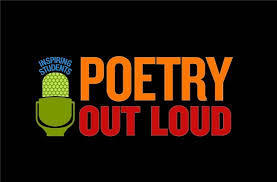 Poetry Out Loud -UPDATE! Winners Listed Below
Jay DeSilver
Thursday, January 26, 2017
Lawton High School will host its annual Poetry Out Loud contest, a student performance competition, at 3:30 p.m. on Thursday, Jan. 26in the Lawton High School auditorium, 601 NW Fort Sill Boulevard. The event is one of several preliminary competitions that precede a national Poetry Out Loud contest each spring in Washington, D.C. It will feature 17 students that have advanced from schoolroom champions to school-wide competitors. The program was launched at Lawton High School by the two educators in 2009. The contest is free and open to spectators. Advisers and participants ask those who wish to attend to be mindful and respectful of each performance. Spectators should enter and exit only during applause, in between speeches.
Poetry Out Loud Winners
CONGRATULATIONS TO THE WINNERS IN THE 8TH ANNUAL LAWTON HIGH POETRY OUT LOUD SCHOOL-WIDE COMPETITION. THE WINNER AND RUNNER-UP NOW ADVANCE TO THE REGIONAL COMPETITION ON 18 FEBRUARY, 1:30, IN OKLAHOMA CITY, AT OKLAHOMA SHAKESPEARE IN THE PARK.
1st place – Kristine (Kris) Guerrero (11)
2nd place – La'Daesha Dubose Porter (11)
3rd place – Kai Daniels (12)
4th place – Sarah Sittenauer (11)
5th place tie – Moira Knopf (12) & Leahe Smith (10)